I have a weakness for retro glamour (all glamour, really). Which is why I am on the hunt for a chic pair of cat's-eye sunglasses. I'm not interested in those with rhinestones on the edges – it's the shape that I enjoy and I would be perfectly happy with a simple black pair.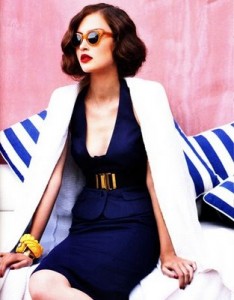 My search for said sunglasses has so far been unsuccessful. I feel sunglasses are personal – like shoes – and you really need to try them on to make sure they flatter your face so Internet shopping is only good for research. I thought I'd try a vintage store for them but all theirs really were old – and prescription – leaving me dizzy and empty-handed.
So my quest continues. Something tells me I'll find them in the most unlikely place. Out of all the shapes available  for sunglasses I think the cat's-eye is really under-represented in the retail market. Maybe that'll change  in the future but for now I'm feeling like a feline on the prowl!