The book: You Know You Want It: Style – Inspiration – Confidence by Eric Daman, Costume Designer for Gossip Girl
As a fan of the fashions on both the shows Gossip Girl and Sex and the City (where Eric was an assistant costume designer), I was excited to see what insider secrets he'd share in his first book.
The book is split into 4 sections: Basics, Inspirations, Style and Maintenance.
In section 1: Basics, Eric explain the different cuts that work for different body styles: tops, skirts, pants and jeans. He listed 4 women's body types: Carrot, Stringbean, Pear and Apple. Oddly enough that meant he left out mine (hourglass – where hips and shoulders are the same and waist goes in)
Here he also mentions his key pieces, which he calls "Totally Basic Essentials": white t-shirt, sweaters and cardigans, a perfect little dress (not necessarily black), suits (and how to break up and use the pieces) and a chemise (A button-up oxford shirt).
This section also provides a cursory glance of accessories for different occasions: weekend, office, black tie and date.
Eric suggests finding or signature piece (or rather, letting one find you). An example of this is the "Carrie" necklace from Sex and the City… I wonder if he helped Patricia find that….
The expensive basics: coat, sunglasses, bag. Not all need to be investment purchases but he recommends having a good one of each and then supplementing with cheaper options.
For the trends he suggests getting the looks for less. When something is popular enough, a low-cost version had been made (think H&M).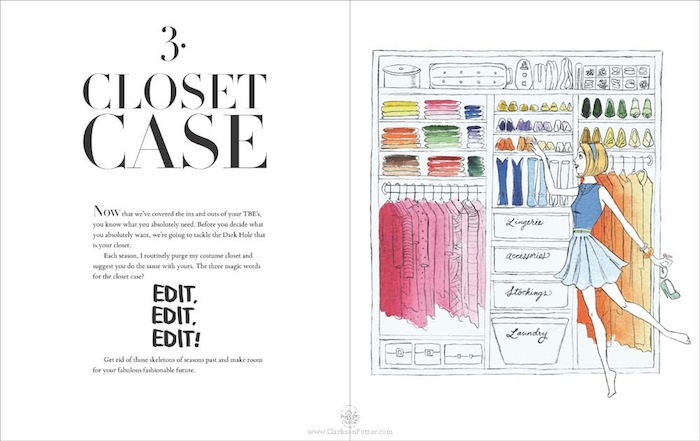 This section also takes on closet organization. Eric suggests doing this seasonally (and I do too!)
Good friends to have: a cobbler and a tailor. These skilled people can save your soles (literally) and take something that sort-of fits and turn it into something that fits like a glove.
Section 2: Inspirations. In this section the reader is encouraged to look everywhere for inspiration and to not wish to look like anyone else but be their ultimate self!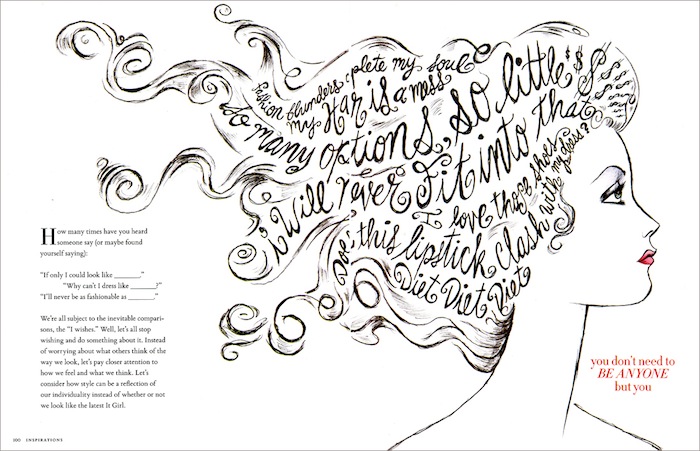 The readers are encouraged to look to our own pasts, our travels and our own experiences to forge our own individual style.
This section talks about colour. Namely the 4 seasons: Spring, Summer, Fall, Winter. I think I'm Spring but I liked the colours for all the seasons so I don't think I'll follow these rules (some rules are meant to be broken!)
He also suggested 5 different types of looks: Classic, Eclectic, Natural, Dramatic and Romantic. I couldn't see myself in any of the looks, I liked some of the pieces but not the overall look – too costume-y for me (but hey, he is a costume designer, after all).
Section 3: Style. This section talks about layering, varieties of skirts, tops and pants.
Eric encourages readers to break traditional rules: winter white and summer black. He also tells readers to think creatively with accessories. Gone are the days of matching shoes and bags.
This line made me laugh: "Don't apologize, accessorize!"
In the final section: Maintenance, it's about the foundation: bras and underwear.
Eric also gives an inside peak into a stylist's emergency kit: safety pins, top stick tape, lint roller, dryer sheets, wet ones (used as a gentle makeup remover), etc. Most of these I have already on standby but the wet ones is something I'm curious to try.
To sum it up, style is 20% fashion and 80% confidence so know who you are and what you like and you'll live happily ever after (doesn't everyone just love a happy ending?)
A resources section at the back let the reader know where to buy. Like the adorable hot pink pump with a heart-shaped peep toe from Alexandar McQeen on page 94… hey, a girl can dream.