I have been a long time fan of the show Project Runway and I was curious to see Seth Aaron's show at Vancouver Fashion Week. What I wasn't expecting was to be asked to meet with him afterwards.
Here's what I learned about what Seth Aaron has been up to since winning season 7 (Season 9 recently finished) and his latest collection.
After we were introduced the first question I had for Seth Aaron was what had he been up to since winning, besides designing he has been been hosting events and giving talks, as well as filling in for Tim Gunn for season 9's casting (Tim personally asked him).
Seth Aaron describes his garments as "sustainable sexy" and "fashion with a conscience." So what does that mean? He has teamed up with Earthtec to provide 'fashion-forward apparel that is 100% sustainable – made from recycled water bottles and organic materials'. I told him that reminded me of Canada's own accessories designers Matt & Nat with their vegan and eco-friendly purses, bags and wallets.
The collection we saw walk the runway was his high fashion vision that he said he will be using as inspiration for a ready-to-wear collection that will be available in stores starting in Spring 2012. He is currently in talks with several different American chain stores.
I asked Seth Aaron what the inspiration was for his prints. He replied "my face". And it literally was. He took a picture before he shaved his head and digitally worked it before turning it into prints.
I asked where he wanted his brand to be in 3-5 years. His response: Everywhere. With negotiations to have his collections mass produced for large department stores like Macy's or Target starting Spring 2012 that might just happen.
As Tim Gun would say, "Make it work." Good luck Seth Aaron!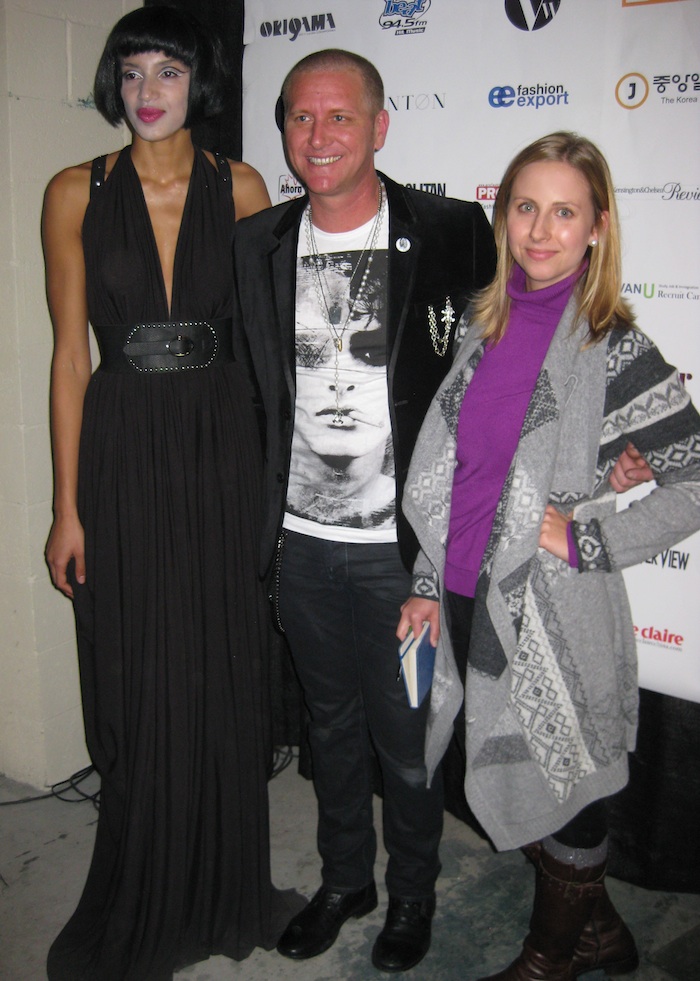 Turtleneck: Danier, Sweater: Mexx (Twist), Cords: Paige (Twist), Socks: Joe Fresh, Boots: Ecco, (Twist), Earrings: Claire's